Bateaux de croisière en visite au port de Québec
**CRUISE SHIPS VISITING QUÉBEC PORT**
SUMMER 2002
Copyright ©2002-Pictures-J.Proulx All Rights Reserved.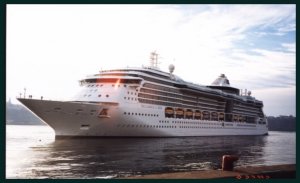 This is the approaching Québec's pier. The 27 September 2002-08:00AM
Information: 90,090 Tons-2,500 passengers-962 feet length-build in 2002
Website Information about this ship:

WELCOME TO MY CRUISE SHIPS PICTURES'S SITE= CLICK BOAT ANIMATION


PHOTOS

DE TOUS LES AUTRES PAQUEBOTS SUITE PHOTOS
ET LIENS MARITIMES-OR-MARITIMES LINKS
You can see the best LINKS about Cruise-Ships Compagny,dry-dock,Ships's History, WEB CAM,From ships bridges.Vous pouvez voir les meilleurs liens maritimes,compagnies,chantier maritime,histoire de navires. Cameras Web des ponts des paquebots.

___________________________________